Testimonials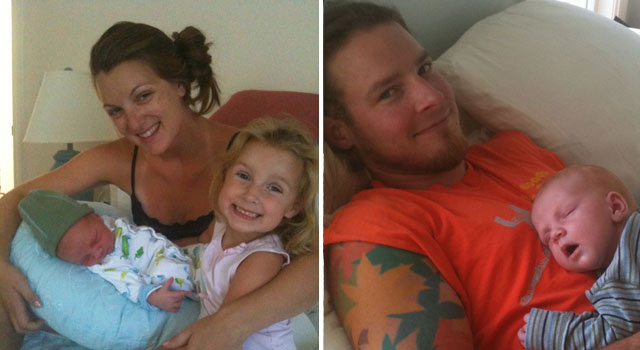 Kelly
"

I PEACE. STRENGTH. JOY. Those are a few of the words that come to mind as I recall the homebirth of my son. Birth is just an amazing experience in general, but there is something about being in the familiar environment of your own home and surrounded by people of your choosing that makes it extraordinary. Our homebirth journey began in December of 2010, when we found out we were expecting our second child. I can't really explain it, because this was not something we had even considered before, but something just clicked- I knew I wanted our baby to be born at home. And so began the search for a midwife! While up late one night, feeling nauseous of course, I found Sybille's website. Having grown up here, I knew who Sybille was because I was in school around the same time as her children. It took all of maybe 60 seconds of perusing the site and reading bits of testimonials before I shook my husband awake and said "by the way, we're having a homebirth"!

Here is our back story- what led us to the homebirth path. My birth experience with my daughter, while still resulting in one of the happiest days of my life, was far from what I had dreamed having my first child would be like. We were living in Memphis, TN when I had my routine 20 week ultrasound during which I was told they couldn't get a good view of the baby's heart. Being a young, naïve first time mom, I thought nothing of this. Two weeks later during a level 2 ultrasound, it was discovered that our baby had a serious heart defect that if left untreated would be fatal. I was crushed. All of my dreams of how birth and motherhood would be went out the window and the only thing running through my head was "what do I do to make sure my baby lives?" That's not usually something one addresses when writing out a birth plan.

I picked up and moved back to Massachusetts while my husband continued to work (to keep our health insurance) in Tennessee. I knew the best hospitals were in Boston and I wasn't going to take a chance anywhere else. At 39 weeks, I was induced and after 13 hours of being pumped full of pitocin, 2 attempts at breaking my water and what seemed like every doctor in the hospital performing pelvic exams at 15 minute intervals, I gave up my hopes of a "natural" childbirth and asked for an epidural. 3 hours later, I got it. 10 hours after that, our daughter was born and whisked away to the NICU, then to the Cardiac ICU to begin the delicate process of saving her life. Through most of those 26 hours, I felt like an outsider looking in. I had stripped myself of the right to make decisions regarding the birth, leaving everything entirely up to the doctors and nurses to ensure that my daughter had the best chance at survival. I had no confidence in myself or my ability to bring her into the world. I do, however, thank God for the medical team's decision making because four years later, my daughter is a healthy, happy little girl (with a new heart, I might add!), and that is the most important thing.

Bringing us back to present day, because of everything we went through with our daughter, most people thought we were absolutely insane to even be considering a homebirth. Some people accused me of being outright selfish. I knew in my heart, though, that this is what I wanted and that it would all be okay. My husband was completely supportive of my decision from the beginning, never questioning it once, which was a huge help. Our approach was one of "co-care". I routinely saw a doctor in addition to Sybille, and had regular ultrasounds to monitor the baby's heart. Sybille was amazing. She was great about communicating with my doctor and making sure we were very prepared as we approached the birth. In so many ways, Sybille went above and beyond in how she treated us and I felt truly cared for (and about)- physically and emotionally- throughout my pregnancy and delivery.

Okay, now for "go time"! August 30, 2011- 8 days overdue. Sybille and I had spent the previous day discussing how this week would go, since once I hit 42 weeks, she would have to surrender care to the hospital. We talked about herbs and castor oil. We did a "thorough" pelvic exam in hopes that something would get started. Thankfully, it did! I woke up that morning at around 6 with fairly strong contractions. Since I had been feeling them off and on for weeks, I didn't get my hopes up just yet. I glanced at the clock and figured I'd keep an eye on them. They stayed fairly regular- about 8-10 minutes apart, so I called Sybille to give her a heads up. I was trying hard to contain my excitement, just in case this ended up being a false alarm, and Sybille calmly said to take it easy and let her know when the contractions got closer together and more intense. Around 2 pm, the contractions had gone from 8 minutes apart to 4 minutes apart and were increasing in intensity. I called Sybille and she said she and Annie would be on their way!

I remember the mix of excitement and anxiety I was feeling, along with the adrenaline rush of knowing I was really going to do this- have my baby at home! I also remember, pacing back and forth in the bedroom as Sybille and Annie worked on getting the tub and everything set up in the other room. I had Zach rubbing my shoulders trying to distract me from what were pretty strong contractions and I said to him "I can do this, right?" and he simply answered, "of course you can". That was it. I didn't ask again. At that point, without really meaning to, I began to focus inward and just trust in my body's natural ability to bear my child. I spent most of the time with my eyes closed, listening to music (the same CD over and over again- sorry Sybille and Annie!), the outside world in a haze. Honestly, I felt naturally drugged!

The tub felt amazing and added to the sense of calm that had come over me. Sybille and Annie directed Zach to keep me hydrated with my Recharge and feed me bites of snacks to keep my energy up. I think around 7 or so we decided to check my dilation, and I was around 8 cm. It was nice to know we were getting somewhere! Very soon after that I started getting the urge to push, which I tried to hold off on since I wasn't fully dilated but that started to become difficult. The body does what it wants to do at a certain point! We moved from the tub to the bed, which I had figured I would do so I could push on solid ground. The haze I had been in gave way to a sudden clarity and burst of energy as the arrival of our son approached. There came a point where I felt as if my pushing wasn't resulting in anything and I remember saying, "Can we help him or something?" His head was out but he had his hand balled up in a fist right next to his shoulder, which was making it a bit harder to push. Sybille massaged and maneuvered and within a minute or two, at 9:11pm, Jax Christian Miller had entered the world. Almost 6 months later, telling this story still brings a huge smile to my face, as I'm sure it will for the rest of my life.

Some days, I find myself walking through the house, mindlessly picking up toys or putting clothes away. I'll pause, glance at the bed downstairs or the spot in the kitchen where the tub was and smile. There. That's where my baby was born. Having a homebirth was the most mind-blowing, rewarding, empowering experience of my life. It filled me with peace, strength, joy and most of all, LOVE.